When you say your wife is added as dependent, did you guys get PPR email to submit the passports?
It shows dependent as in the screenshot. They are still processing my application but they will process for my wife as well.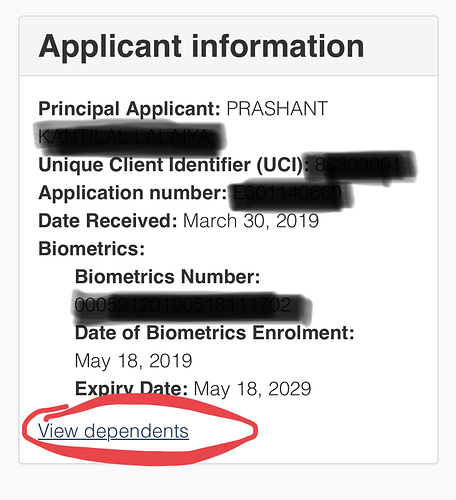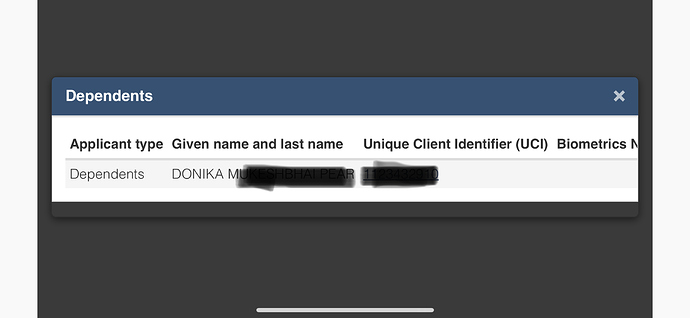 Hi all,
This update is a bit late but on Oct 1st we got additional documents request from cic for proof of funds, imm5406, imm5562, spouse's photo, questionnaires on relationship. My cic account was also updated with my spouse name and uci number.
We submitted all the documents asked for in mycic portal on Oct 10. On Oct 18 we received spouse biometric request. That was submitted on Oct 21st was reflected on the account the same day.
Now the wait begins for the golden email

It has been almost been more then 2 months and no update on my account in regards to adding my wife as dependent. and the status still shows action needed. I have sent couple of emails and still get standard response. Does anyone know how i can contact the CIC? In the past i used 613 944 000 but now it does not transfer and just ends the call when i select the PR option.
Please try this one as well: 888 242 2100
It works some times.
Congrats!!! I am still waiting for my wife's biometric request.
Hey Prasan, Any update on your case? Is your wife added to your file now and did you guys get the PPR email yet?
My wife got added to the application and gave her biometrics on Oct 17. No updates after that. We called IRCC in November 19 and they said my medical has been extended. We ordered gcms notes and looks like everything is good and except for my wife's security every thing is cleared. Hoping they send PPR soon. It has been a long wait.
How's your side of things looking?
No Change in status. My wife is not yet added to the application and still the application says waiting on additional docs. Can you please provide the number i can call from USA?
This thread will help you https://www.canadavisa.com/canada-immigration-discussion-board/threads/guidelines-to-call-ircc-cic-from-us.584666/
I would advise you to apply for gcms notes by getgcms or gcmsbuddy (both are same) so that you get a detailed report of where your application is.
Most of the spouse addition files (inc my file) go to their Montreal processing center which is notorious for delays. They sat on our file for 2 months before doing anything, and now it's been 2 months more they have now sat on it. We see it in our gcms notes. Can't do anything other than wait. Application processing times have also increased from 3 to 5 months average to 5 to 8 months, for simple applications.
Thanks Prasan for the information. Will try calling it sometime this week.
Received my PPR from CPC Ottawa today afternoon. Will be sending the passport tomorrow. What a relief!
Congratulations Prasan. I am still waiting and still my account says waiting for documents. Did you do anything from your side that expedited the PPR email or was it just a wait game? I am planning to order GCMS notes this week and see if it helps in anyway.
Other than ordering gcms notes we didn't do anything. I would advice ordering gcms notes asap. I ordered mine through gcmsbuddy
Thanks Prasan for sharing. I will order the notes tomorrow.
Hi,
I am in a similar situation like yours and all of your comments have been very helpful. I got a request for additional information and forms. I have some questions about the forms. Here is a part of the request I received:
Forms
 Updated Generic Application Form for Canada IMM 0008 for yourself and your spouse or
common-law partner (CLP);
 Updated Additional Family Information Form IMM 5406 for yourself and your spouse or
common-law partner (CLP);
 A completed and signed by your spouse or common-law partner (CLP)Schedule A Background/
Declaration IMM 5669;
 Supplementary Information Your Travels form IMM5562 E for your spouse or common-law
partner (CLP);
 If applicable: A completed and signed IMM4509 Statutory Declaration of Common-law Union
Regarding the IMM5562 form, the request says this form should be completed and signed by my spouse. However on the form itself it is mentioned that the form should be completed by the Principal Applicant (me) and there is a section for "You" and "Your Spouse". What do you recommend based on your experience? Should I fill the form with my details in the "You" section or my wife's?
Hi there!,
I just went through my documents. I submitted 2 copies of the imm5562e document totalling 4 pages
Pages 1 and 2 were family details of my wife keeping her in "Applicant" and my name in "Spouse". 1 page in English and 1 page in my mother-tongue.
Pages 3 and 4 were my family details with my name as "Applicant" and my wife's name in "Spouse". 1 page in English and 1 page in my mother-tongue
I made these 4 pages into 1 pdf and submitted. I hope it helps. Please feel free to reach out if you have more questions and good luck with the application

@prasan Appreciate the quick response. IMM5562E is the Travel Information form and not the Family Information form. Can you please check what you did with IMM5562E?
Another question, did you submit two form IMM 0008s one for yourself and one for your spouse? If so, did you still mention her as your dependent in your IMM 0008 and you as a dependent in her IMM 008?
Does the spouse get their own UCI number? Should I leave the UCI number field blank wherever I am filling out her information or just the my UCI number?
Sorry for bombarding you with so many questions, just trying to be little less annoying by reducing the back and forth

Oops! Sorry for the miscommunication I had saved my forms with the wrong numbers.
For the travel form, I submitted only one copy with my wife's name in section 1, her travel records in section 2a and mine on section 2b. My travel history needed extra space so I attached a separate page with my wife's name, the form name, the section ("2b") and added a table with the additional information.
I submitted only 1 IMM0008 form and listed her as my dependent. I did not submit one with her listed as primary.
In my case I kept UCI number blank for her. It will be generated once spouse/common-law partner gets added to your profile in the portal. They do that once these documents that you submit now are reviewed.
Please feel free to ask any questions you may have. We understand the stress that adding to spouse takes during this process having gone through it ourselves and we are happy to help!

Really appreciate your help! Thank you!